Classic Rib & Standing Seam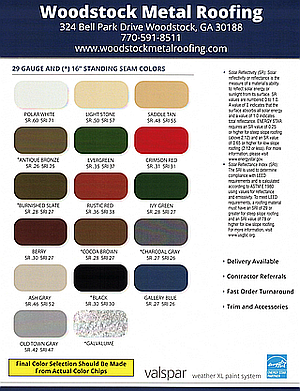 3′ Wide Classic Rib stock colors: Polar White, Light Stone, Ash Gray, Saddle Tan, Burnished Slate, Rustic Red, Evergreen, Ivy Green, Berry, Cocoa Brown, Charcoal Gray, Crimson Red, Black, Old Town Gray, Gallery Blue, and Galvalume.
16″ Standing Seam stock colors: Polar White, Ash Gray, Burnished slate, Charcoal Gray, Black, and Galvalume. In addition, we also carry Dark Bronze, Medium Bronze, Mansard Brown, Evergreen, Copper Matallic, Slate Gray, and Dove Gray in 24 gauge Kynar.
View/Download Color Chart
Underdeck
Underdeck: We carry most major Gutter Colors for our Underdeck System.
View/Download Underdeck System Colors
Comparison of Available Colors by Product:
Ash Gray
Berry
Black
Burnished Slate
Charcoal Gray
Cocoa Brown
Copper Metallic*
Crimson Red
Dark Bronze*
Dove Gray*
Evergreen*
Gallery Blue
Galvalume
Ivy Green
Light Stone
Mansard Brown*
Medium Bronze*
Old Town Gray
Polar White
Rustic Red
Saddle Tan
Slate Gray*
16" Standing Seam
*in 24 Gauge Kynar