We carry 16″ wide nail strip standing seam in an assortment of colors.
View/Download Standing Seam Color Chart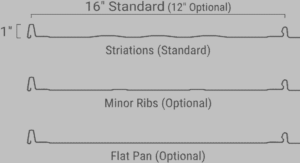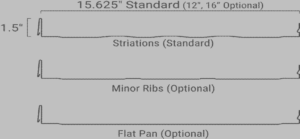 Features and Benefits of Standing Seam Metal Roofing Panels
Our 1" standing Seam Panels use the snap lock system – just screw in the flange and they snap together.
Our 1.5" standing seam panels use the clip system for installation, which aids in expansion and contraction.
Standing seam is a hidden fastener panel, meaning the fastener flange is covered by the next panel.
Available in 40-year SMP paint systems or Kynar paint systems. Please call us and we will explain the difference
26 gauge or 24 gauge metal panels
We use the latest in metal technology — Galvalume, steel impregnated aluminum. To learn more, read about the differences between Galvalume and Galvanized metal, at the Web site of one of our suppliers:
Sheffield Metals Learning Center
Must be installed over a solid surface, such as OSB or plywood.
Gallery of Selected Images of Standing Seam Metal Roofing Panels